People who know me know that I've been around the franchise industry my entire life. I grew up working at a franchise company from a young age and have been involved in several franchise brands as a franchisor and a franchisee, sometimes both in the same brand.
I thought it would be helpful to share some ideas on how owning a franchise can positively impact your life and your family.
The freedom and opportunity that come with being a business owner are most obvious advantages that come to my mind. As a small business owner, you are responsible for results, which is both liberating and challenging. As a franchisee, you'll get support and resources from the franchisor, but it's also all up to you to follow through and implement that program. You are responsible for the results, whether good or bad.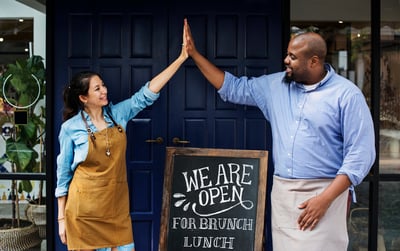 When things go well, you feel good, and your lifestyle is affected in multiple areas. The impact of the respect you earn as a business owner goes beyond just profitability and financial improvement. Being the boss is nice, but being the owner is even better — people respect small business owners. Many people want to get to the point of business ownership, but it is an aspiration that most people never achieve. If you're a successful franchise owner, it has the potential to raise your self-esteem, your personal brand, your experience level, your knowledge level, and the admiration from others around you. It's a great thing to be a successful business owner and be recognized for that success in your brand, industry, and community. If you win an award like "Franchisee of the Year," it is a fantastic feeling to be "King of the Hill" for the brand for that year. Certainly, this never happens by accident, and it is always a well-earned award for any brand. The award is something that you can take with you, hold onto for a long time, be proud of, and share as an inspiration to others who want to achieve your same level of high-performance success.
Along with financial freedom comes the ability to choose how to spend your time. The most successful franchisees have true freedom in determining how they spend their time, whether at work, on vacation, or doing other things with your family. Having this freedom is possible as a successful business owner, but it only comes after a long period of hard work. When you can spend most of your time as you see fit, you can truly enjoy the fruits of your labor and the benefits of being a successful owner by redirecting your time and money into other interests. Sometimes, it might be another unit in the same brand; other times, it might be a different business altogether. It could also be pursuing hobbies or interests outside of business. I've seen people who have done fantastic things in their personal lives that they could only achieve due to the extra time they gained by having a successful franchise.
While I believe many of the benefits of owning a franchise are apparent and straightforward, these are a couple of ideas that you might not have considered or thought about — more reasons to have the ambition, motivation, and inspiration to continue to strive for higher levels of success. If you're looking for more advice or coaching ideas as a franchisee or for your franchise business, please reach out. I am happy to be a resource.
Are you ready? If today is the day, schedule a free consultation to discuss your business funding options.
FranFund would like to thank John Francis - also known as Johnny Franchise, for this guest blog post. John has a LIFETIME of experience in franchising. You can't tell John a franchise situation he hasn't lived or experienced.