Our Story
Our founder and CEO, Geoff Seiber, is a franchise-industry veteran with first-hand experience as a franchise owner, franchise developer, and new franchise creator.
Geoff's personal experiences and insights allow us to create funding programs and operations that specifically address the needs and challenges of franchise and small business financing.
FranFund is an IFA Supplier Forum Member.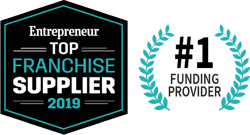 Awards
2019 - Recognized as the #1 franchise funding supplier by Entrepreneur Magazine
2019 - FranFund's Geoff Seiber honored with Companion Medal for American Free Enterprise Day Ceremony
2019 - FranFund's Shay Mora receives Coleman's 2019 Emerging SBA Lender of the Year Award
2018 - Recognized as a top franchise funding supplier by Entrepreneur Magazine