Are you considering business ownership and wondering if a franchise is a good investment? Owning a franchise can be a lucrative and rewarding experience. It allows you to invest in a proven system, work for yourself, and in many cases, enjoy greater returns than alternative options.
Proven System
Developing brand loyalty is one of the most challenging hurdles for any new business. By investing in a proven model – and the support of a larger organization – you can avoid this hurdle and hit the ground running. By not having to worry about many common startup concerns – from branding to advertising, to developing customer loyalty – you can focus on what matters most: running your business!
In addition to startup ease, having the preexisting customer base that a franchise can provide will do wonders for your bottom line. According to a Harvard Business Review study, acquiring a new customer can be up to 25 times more expensive than retaining an existing one! Investing in a verified system not only mitigates common startup hurdles – it benefits business owners financially as well.
Working for Yourself
Working in the corporate world has its advantages, but it often leaves people stuck with strict hierarchies, hard income limits, and the ever-present risk of being downsized. Owning a franchise is a great way to lessen or eliminate many of the issues inherent to working for someone else. It puts you in the driver's seat and allows you to be in control of your own destiny!
Although our economy has been on a historic decade-long bull run, nothing good lasts forever. According to a Harris poll, nearly half of Americans in the workforce experience layoff anxiety, despite record low unemployment rates. Even in times of downturn, franchise businesses remain stable investments, particularly those in "recession-proof" fields such as restoration, beauty, and automotive services. Investing in a franchise can be a rewarding experience in virtually any economic climate.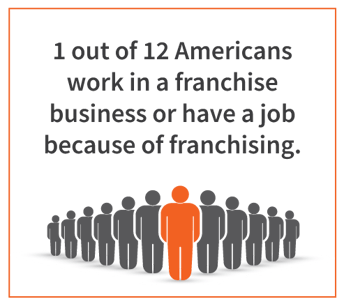 ROI
Franchise business growth continues to climb year over year. One out of every 12 Americans in the private sector works in a franchise business or has a job because of franchising. 5% of all private-sector output is a result of franchising. Per the Census Bureau's most recent economic census, franchised businesses are instrumental in providing day-to-day services across many industries. Franchising has been here for a long time, and it isn't going anywhere.
Additionally, franchises are generally much lower risk investments than non-franchised businesses. Investing in a franchise allows you to skip the step of building your own brand, incur fewer mistakes, and operate with the safety net and operational resources of a major company. It really is the best of both worlds. Franchise ownership can provide a much better return on investment than non-franchised startups, which shouldn't be surprising given the higher barrier for entry of non-franchised startups.
Funding
As you probably know, there's no such thing as a one-size-fits-all funding solution. Every business owner has different needs. This is where we come in! Our goal is to simplify the process for every client, while providing the best service possible. Whether you're planning to leave your job and start a business, or want to expand an existing one, we're here to create the business funding solution that makes the most sense for you. Find out why we were recently ranked Entrepreneur Magazine's #1 funding provider!