Thanks to franchising, the dream of business ownership has become a more realistic goal for all entrepreneurs. By investing in a proven model and following the franchise brand's existing guidelines, you can get your business started and be profitable much quicker and easier than starting a business concept from scratch. And, one of the largest areas of growth in franchise businesses is with African American owners.
Making a Mark in Franchising
Along with financial freedom, owning a franchise business can give you more flexibility and personal fulfillment. If you are an aspiring black entrepreneur and need some inspiration to make the leap into franchising, here are a few notable success stories.
Ulysses Lee "Junior" Bridgeman
Bridgeman was drafted by the Lakers in 1975 and then traded to the Milwaukee Bucks. During off-seasons of his NBA career, at a time when players' salaries were much more conservative than today, Bridgeman learned Wendy's franchise business from the ground up. By the end of his NBA career, he owned three Wendy's franchises. After retiring from basketball, he took all of the money he made and invested it into franchises, where he found even greater success than with the NBA. With over 240 locations, he is now the second-largest Wendy's franchise owner in the world. He also owns more than 120 Chili's locations.
Kevin Young
Former Naval officer Kevin Young knew from a young age that he wanted to own a business someday. When he attended a Service Academy Career Conference in 2013, he heard a Chick-fil-A representative speak about franchising opportunities. Franchisors like former military candidates because they have the discipline and ability to follow a system that makes them a great fit for the business model. Although Chick-fil-A is a highly competitive brand to break into, Young was very passionate and determined to be part of the organization. He went back to school and earned his M.B.A., volunteered at some of the stores to gain experience, and in 2017, was awarded his own Chick-fil-A franchise. As a hands-on owner/operator, Young is excited to be able to inspire future leaders.
Michelle Lewis
After a memorable experience at a Painting with a Twist franchise, Michelle Lewis quit her full-time architect job and bought one of the studio locations in her hometown of Detroit, MI. She went on to partner with her sister, Donna, and open two more locations. Even though she didn't feel like she fit the stereotypical persona of a business owner, Michelle is glad she pursued the venture and is enjoying her success and independence.
African-American Owned Franchises See Growth
With the growing population of minorities in the United States, their economic power is steadily rising and the impact is being seen in franchising. The number of minority-owned businesses rose from 5.8 million in 2007 to 8 million in 2012. This includes a 34.5 percent rise in black-owned businesses. Black entrepreneurs are choosing to start up their own franchises versus independent ventures at a faster rate than the broader population.
Statistics also show 31% of franchises were owned by minorities, while non-franchised businesses have only 19% minority ownership.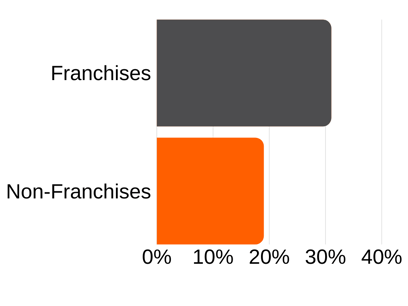 According to the International Franchise Association (IFA) annual Economic Outlook Report, the industries with the highest proportion of Black owners are travel, party-related goods and services, maintenance services, baked goods, and photographic products and services.
The numbers indicate the time is right for Black Americans to pursue their dreams of business ownership and the franchise business model makes it even easier to achieve success.