For ambitious entrepreneurs debating their best funding options for their business, this question is often posed: Can I use my 401(k) as an investment fund?
If you've asked yourself this question, you are not alone, and depending on your circumstances, it could be an option worth strong consideration. Using your retirement funds could be a great way to help you start your business debt-free.
But How?
By taking advantage of the Rollover for Business Startup (ROBS) strategy. This strategy allows you to access some or all of your tax-deferred savings without early withdrawal penalties and invest them into your business. There are no monthly payments, no income tax consequences, and no reimbursement is required. Your 401(k) funds could also make for a smart equity injection that a lender may require if you do need to take out a business loan.
And yes, ROBS business funding is legal. The ROBS process is governed by the Internal Revenue Service (IRS) and the Department of Labor (DOL) and has been in place since the Employee Retirement Income Security Act of 1974 (ERISA).
Is it Right for Me?
ROBS is a great way to use 401(k) business funding if you have more than $50,000 in qualifying retirement savings and plan to work full-time in the business. Since you are not applying for a loan, credit scores and current financial situations are not factors. A ROBS arrangement can be started with any qualified retirement vehicle, with very few exceptions. The IRS does, however, have strict guidelines regarding the execution of the plan. If you are considering using the ROBS plan to get your business started, you should make sure you work with an experienced and reputable funding company to administer your plan.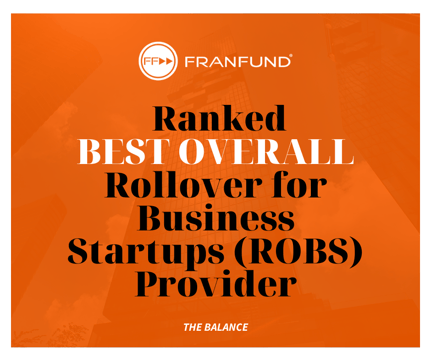 Getting Started
To start your journey to small business ownership, it's smart to work with a trusted professional organization that is in the business of supporting entrepreneurs. There are no shortcuts when it comes to maintaining compliance with the IRS. FranFund facilitates ROBS through our proven, compliant FranPlan® program. Our FranPlan® design meets all guidelines and directives issued by the IRS and DOL for creating a qualified plan – we guarantee it.